< back
06.06.2022
Green Days - Portway handled flights in Madeira 100% sustainable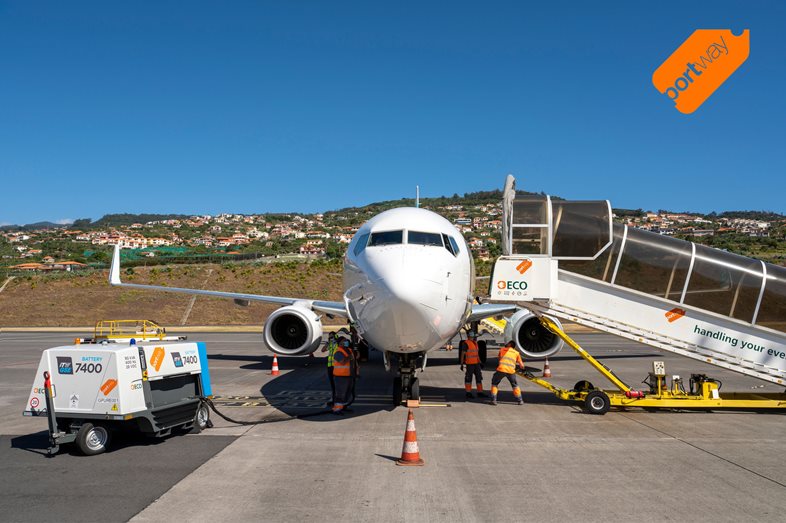 For the first time, 100% sustainable aeronautical assistance operations were carried out in Portugal. They took place at Madeira International Airport, where Portway did a Green Days initiative, on the 30th and 31st of May. Several of the operations performed by the handling company in these 2 days had 0% emissions of CO2. This was another step taken by Portway on the way to the goals of reducing CO2 emissions by 50% by 2030 and achieving carbon neutrality by 2050.
In these 2 days, 7 airlines were assisted by Portway with totally ecological operations, namely Easyjet, Edelweiss, Finnair, Jet2.com, Luxair, Transavia and Wizzair.
The event took place as part of an initiative that the handling company called Green Days. A way of signaling that decarbonization is a strategic priority for Portway. In this sense, the company has been focused in the renewal of the fleet with ecological equipment with 0% CO2 emissions at Portuguese airports.
Taking into account the characteristics of Madeira Airport, whose short distances allow the use of electrical and manual equipment with efficiency gains, Portway decided to accelerate the investments in the region, having recently acquired an electric "Ground Power Unit (GPU)". This type of equipment  supplies energy to the parked aircraft, without the use of fossil fuels. With this important investment, it became possible to guarantee 100% sustainable operations.
In line with Vinci Group policies, Portway is decisively committed to decarbonization and makes an important contribution to the sustainability of the Airport and the island of Madeira.